Dr. Schrader In the News
"Dr. Schrader can get you out of pain and back on the water." -Charlie Ingram
Charlie Ingram recommends Schrader Orthopedic & Stem Cell Treatment Center to sports fans experiencing joint pain, calling Dr. Schrader's advice "the best fishing tip ever."
Schrader Orthopedic and Stem Cell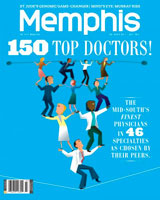 Innovative techniques and a pioneering spirit can best describe Dr. Lawrence Schrader with Schrader Orthopedics and Stem Cell Clinic. He has spent his entire orthopedic career looking for new alternatives for treating patients less invasively.
In 1996 he initially brought the partial knee replacement to the Mid-South after training with Dr. John Repicci. Dr. Repicci developed the procedure and recently replaced Dr. Schrader's own knee. "It made sense to replace only the damaged portion of the knee, with a less invasive procedure. Patients are walking two hours after surgery."
Read the complete article in Memphis Magazine
Repicci II Partial Knee Replacement
Need for major knee surgery may be eliminated
Dr. Schrader says this technique is meant as a bridge to treat the pain of arthritis with a minimally invasive procedure and delay the need for a total knee replacement.
Knee-d a little relief?
People in Tennessee, specifically those who suffer with osteoarthritis (degenerative or commonly known as wear-and-tear arthritis) have an edge on the rest of the country. Actually, Dr. Larry Schrader, a local orthopedic surgeon, has the "cutting" edge (no pun intended), with the Unicondylar Program, unicompartmental knee surgery or partial knee replacement.

Orthopedic Advances
Brace-free rehabilitation now possible in knee reconstruction
Until recently, the majority of patients that have been treated with ligament reconstruction had been protected in a brace, post operatively and during the rehabilitative period; because of concerns primarily of fixation of the graft while knitting occurs.
New Device Dulls Post Surgery Pain, Not the Senses
After surgery, most patients depend on strong medications to help relieve their pain. While the drugs numb the pain, they can also numb the senses. A new device promises pain relief without the side effects.
The Natural History of Osteoarthritis
The natural history of osteoarthritis (or wear-and-tear arthritis) of the knee is discussed at length.  Dr. Schrader explains the primary problem is the wearing out of the cushions of the knee joint.

Dr. Schrader's Athletic Exploits
Track and Field for Adults
Women and men of all ages participate in all track and field events. This shows that older folks are able to become active again in the activities that they once loved and enjoyed. They include swimming, water aerobics, golf, walking, and running.
Contact Us

Schrader Orthopedics &
Stem Cell Treatment Center
927 Cordova Station Ave
Cordova, TN 38018
Ph: 901-465-4300


---